Japan Travel Tips

Perfect Trip Guide
Japan Travel Tips

Perfect trip Guide
Top 10 Best Onsen in Japan
If you're popping over to Japan, you can't miss out on experiencing our hot springs! Japan is dotted with these relaxing spots all over, ready for you to dip in and chill. In this post, we're shining a spotlight on 10 of the most historic and renowned hot spring spots. So, if you find yourself in Japan, make sure to take a splash in these awesome spots!
Top 10 Famous Onsens (Hot Springs) in Japan
Japanese hot springs aren't just about warm water bubbling up from the earth. They're a magical blend of nature's beauty, the dance of the seasons, and stories that span generations of Japanese history and culture. Each spring has its own unique charm and tales to tell, promising a soothing treat for both your mind and body. The 10 hot springs we're diving into below? They're the cream of the crop! So, immerse yourself in local traditions and scenic beauty while connecting with Japan's rich tapestry of history.
The Big Three Onsens of Japan
The "Three Famous Springs" of Japan are legendary in their own right. Let's uncover what makes each of them stand out.
Arima Onsen (Kinki Region, Hyogo Prefecture)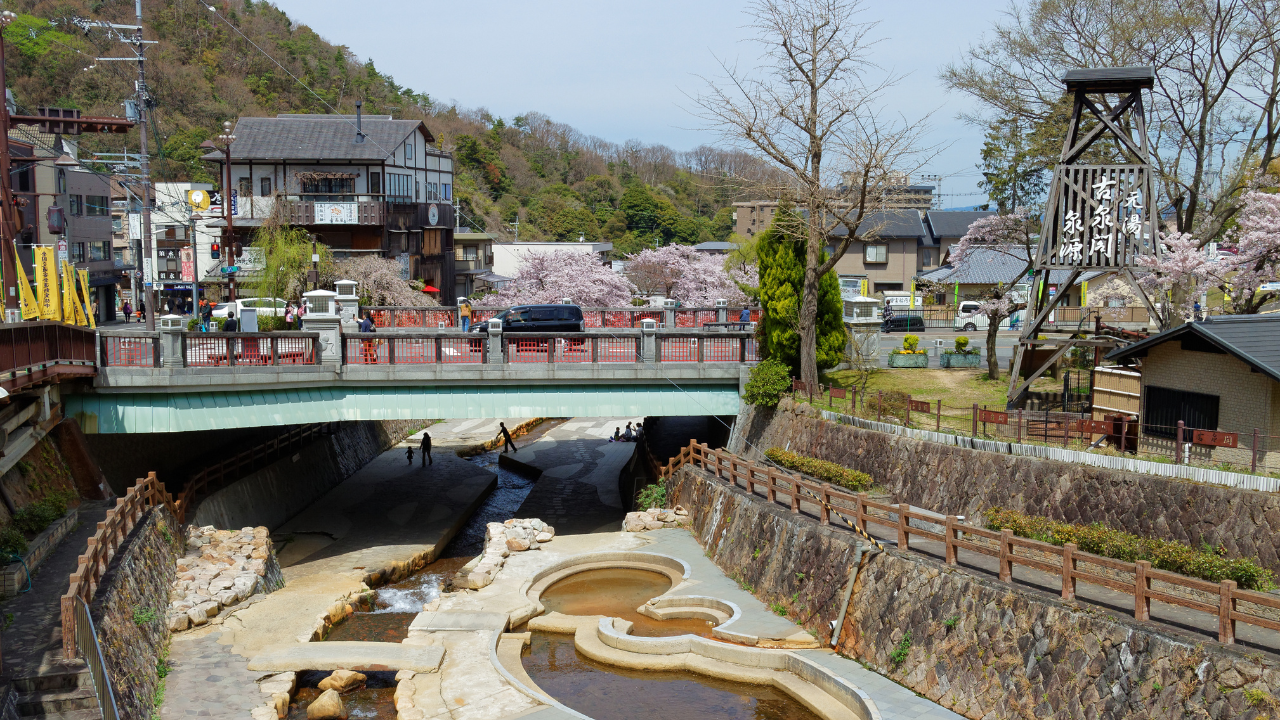 How to get there from Tokyo: A smooth 3-hour ride on the Tokaido Shinkansen.
Arima Onsen offers two distinctive types of hot spring waters: Kinsen (金泉, Gold Onsen), rich in iron, and Ginsen (銀泉, Silver Onsen), infused with radium and carbon dioxide.
Kinsen (金泉, Gold Onsen), characterized by its iron content, is initially colourless when it emerges. As the iron oxidizes upon contact with air, the water turns a reddish-brown shade. It also has a salty taste due to its high salt content. Renowned for its warming, moisturizing, and antiseptic properties, Kinsen is said to alleviate conditions like joint pains and poor circulation. Another moniker for Kinsen is "Woman's Bath", attributed to its supposed benefits for anaemia, a condition prevalent among women.
In contrast, Ginsen (銀泉, Silver Onsen) has a clear and smooth touch. The carbon dioxide dissolved in the water gives it an exceptional feel. Carbonated baths, prevalent in Japan, are believed to enhance blood circulation, addressing concerns like body swelling, poor circulation, and hypertension when the carbon dioxide is absorbed through the skin. Unlike Kinsen, some hot spring facilities allow the consumption of Ginsen.
Kusatsu Onsen (Kanto Region, Gunma Prefecture)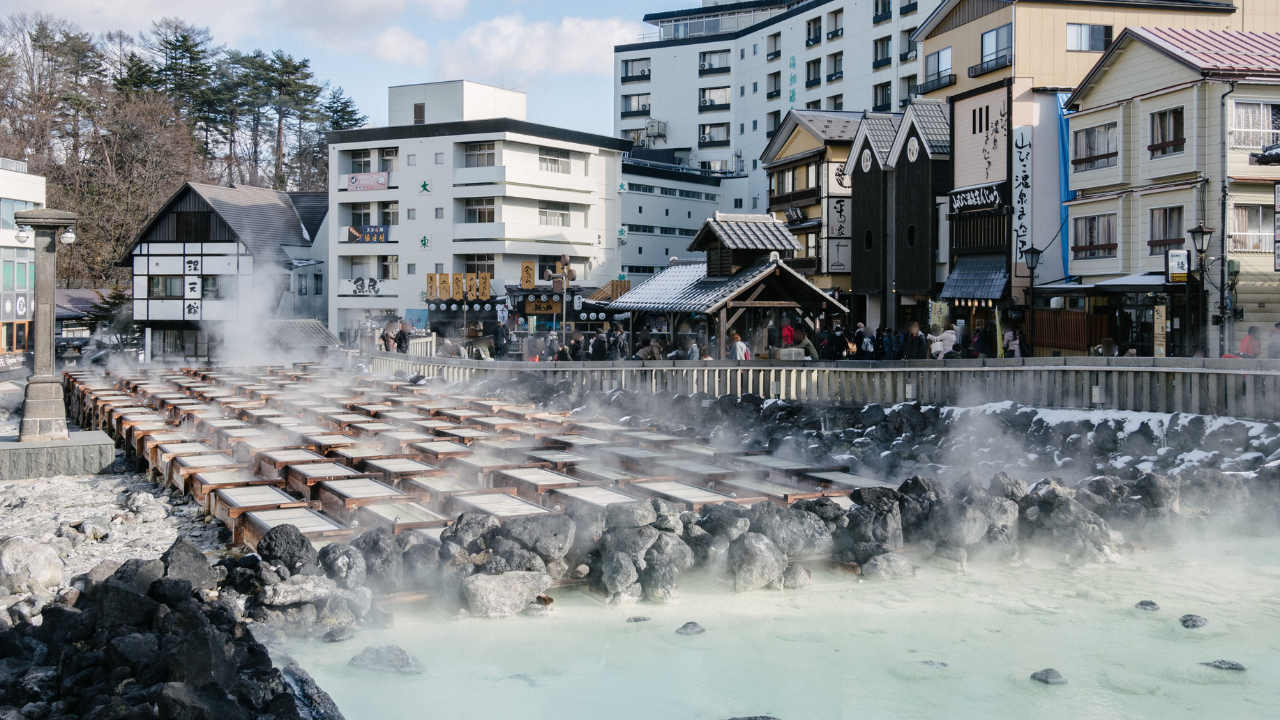 How to get there from Tokyo: About 3 hours by train.
Kusatsu Onsen boasts Japan's most voluminous spring discharge. Its waters, rich in minerals, are highly acidic. Given its high temperatures upon springing forth, direct bathing isn't possible. Traditional "湯もみ(Yumomi)" techniques are employed to adjust its temperature. The unique aroma, colour, and yunohana (hot spring minerals) of Kusatsu Onsen have endeared it to many.
Yumomi is the act of stirring hot spring water using large wooden boards to naturally cool it down. This process evenly distributes the onsen's components while also skimming off impurities. Yumomi has become a tourism highlight in the Kusatsu region, with places where tourists can witness this craft. This stirring technique is a testament to skilled craftsmanship, offering entertainment to onlookers.
Key benefits of Kusatsu Onsen include:
Skin benefits: Enhances skin clarity and is believed to ameliorate skin diseases.
Muscle relaxation: The warmth and minerals of the onsen soothe muscles.
Respiratory effects: Benefits respiratory ailments.
Immerse yourself in this haven, and experience a slice of Japanese culture through the traditional "Yumomi" ritual.
Gero Onsen (Kanto Region, Gifu Prefecture)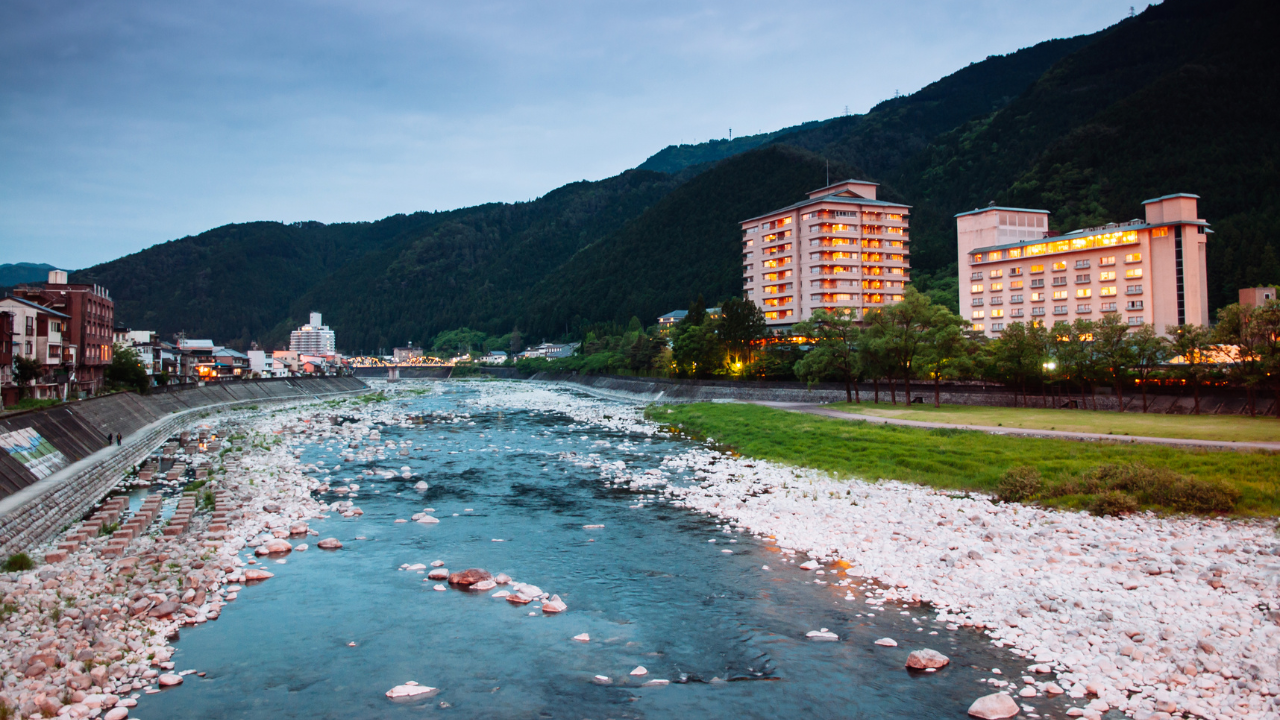 How to get there from Tokyo: A comfortable 2.5-hour journey on the Tokaido Shinkansen.
Gero Onsen is famed as a "Beautifying Spring" due to its alkaline simple thermal waters. Its waters have a unique slippery texture attributed to its alkaline nature. Alkaline simple hot springs are said to exfoliate the skin, leaving it silky smooth.
While Gero Onsen offers the general benefits associated with hot spring baths, like relief from muscle pain, joint pain, cold sensitivity, and fatigue, its crowning glory is undoubtedly its beautifying properties. With Gifu Prefecture's proximity to Tokyo, a visit to Gero Onsen comes highly recommended!
7 More Famous Onsens in Japan
Japan's hot spring culture doesn't end with just the three most famous. Below is a brief overview of seven other iconic onsens you shouldn't miss.
Shibu Onsen (Chubu Region, Nagano Prefecture)
Getting there from Tokyo: Just a 2.5-hour train ride.
Nestled in the Yamanouchi town of Nagano, Shibu Onsen is famed for its picturesque cobblestone streets and traditional inns. Perfect for a post-bath stroll in a yukata, this onsen town offers an authentic Japanese atmosphere throughout.
The springs range from crystal clear to those with high iron content (red-tinted) and even some with a greenish hue. Apart from typical onsen benefits, they are believed to help with neuralgia and promote beautiful skin.
A popular activity in Shibu Onsen is the "9 Onsen Tour". Those staying in inns here can get a key from the reception to access nine public baths scattered across the town. Each bathhouse is believed to cure different ailments, offering a serene spot for mental rejuvenation.
Noboribetsu Onsen (Hokkaido)
Getting there from Tokyo: Fly to Sapporo, followed by a 2-hour bus ride.
Among the hot spring spots in Hokkaido, Noboribetsu stands out. The variety of spring types is its hallmark. With nine different types, including sulfur springs, chloride springs, bicarbonate springs, and acidic springs, it's exceptionally rare even in Japan. Each spring boasts various health and beauty benefits, such as relief from joint and neuralgia pains and skin-beautifying properties.
A significant attraction here is the "Hell Valley" landscape. Positioned on a volcanic site, the ground emits white smoke and sulfuric gases, creating an eerily beautiful scene, hence the name. Visitors can walk the well-maintained wooden paths around the valley, experiencing nature's raw power. Additionally, the sight of wild Japanese macaques enjoying the hot springs is not uncommon.
Beppu Onsen (Oita Prefecture)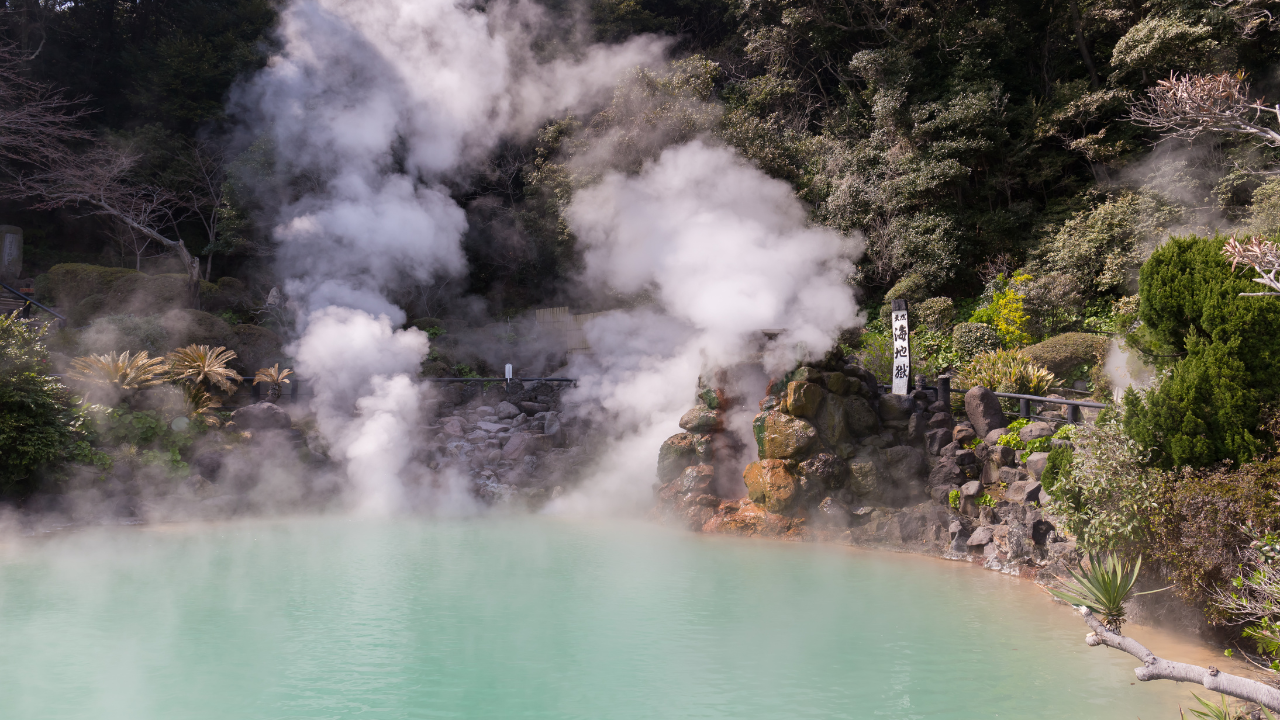 Getting there from Tokyo: Fly to Oita and then a 30-minute bus ride.
One of Japan's most renowned hot spring destinations. With the highest water output in Japan, Beppu Onsen boasts a diverse range of spring types including carbonated, sulfur, and iron springs. Naturally, they offer a variety of benefits from beautification and relaxation to fatigue recovery and relief from neuralgia.
The area has thrived as a therapeutic bathing site for ages. It offers a plethora of experiences from open-air baths, private family baths, foot baths, sand baths, to mud baths.
Hakone Onsen (Kanagawa Prefecture)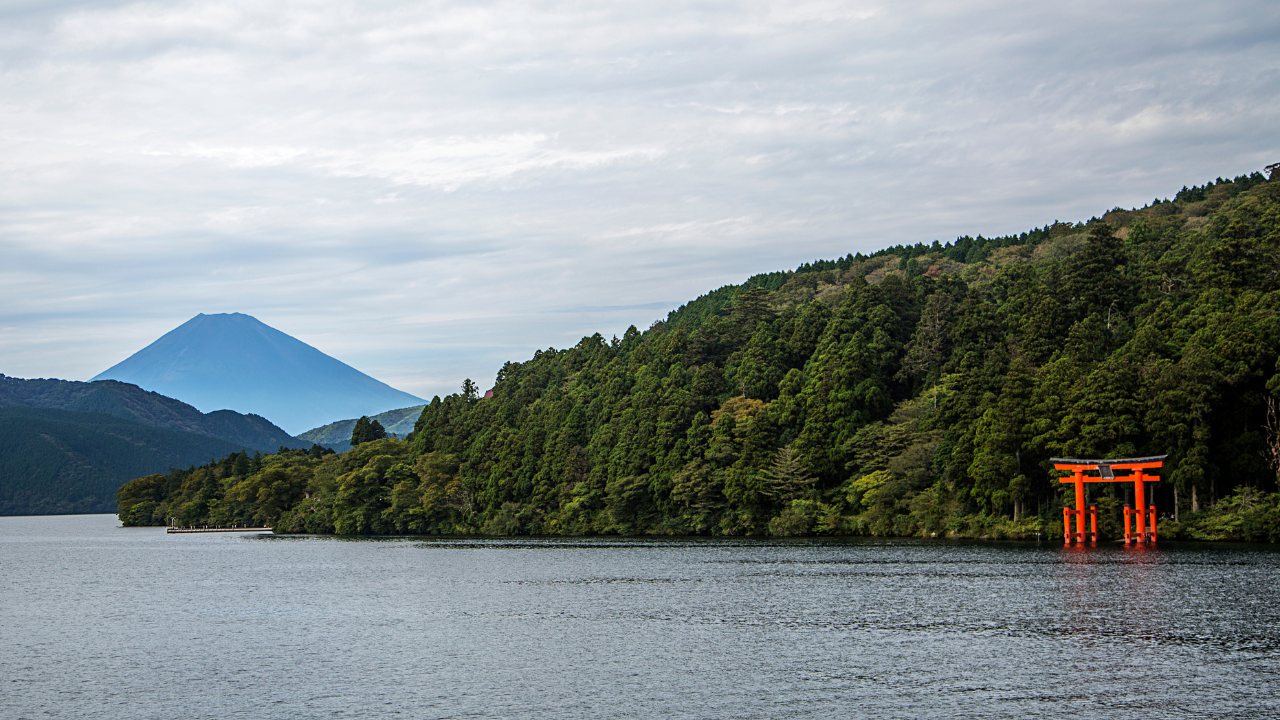 Getting there from Tokyo: A short 90-minute train ride.
Hakone, offering splendid views of Mount Fuji, is a favourite, especially among international visitors due to its proximity to Tokyo. Being a volcanic region, it produces a diverse range of mineral-rich springs like sulfur springs, acidic springs, alkaline springs, and chloride springs. These springs provide a broad spectrum of benefits. For instance, alkaline springs are gentle on the skin, promoting a radiant complexion, while sulfur and acidic springs are known for their antibacterial properties.
Apart from its onsens, Hakone offers numerous attractions. The breathtaking views of Mount Fuji, Lake Ashi, Owakudani, and many transportation options such as ropeways and cable cars let visitors immerse themselves in nature. The beauty of seasonal flowers and autumn leaves is a sight to behold.
Furthermore, numerous art museums provide a deep dive into Japanese artistry.
Atami Onsen (Shizuoka Prefecture)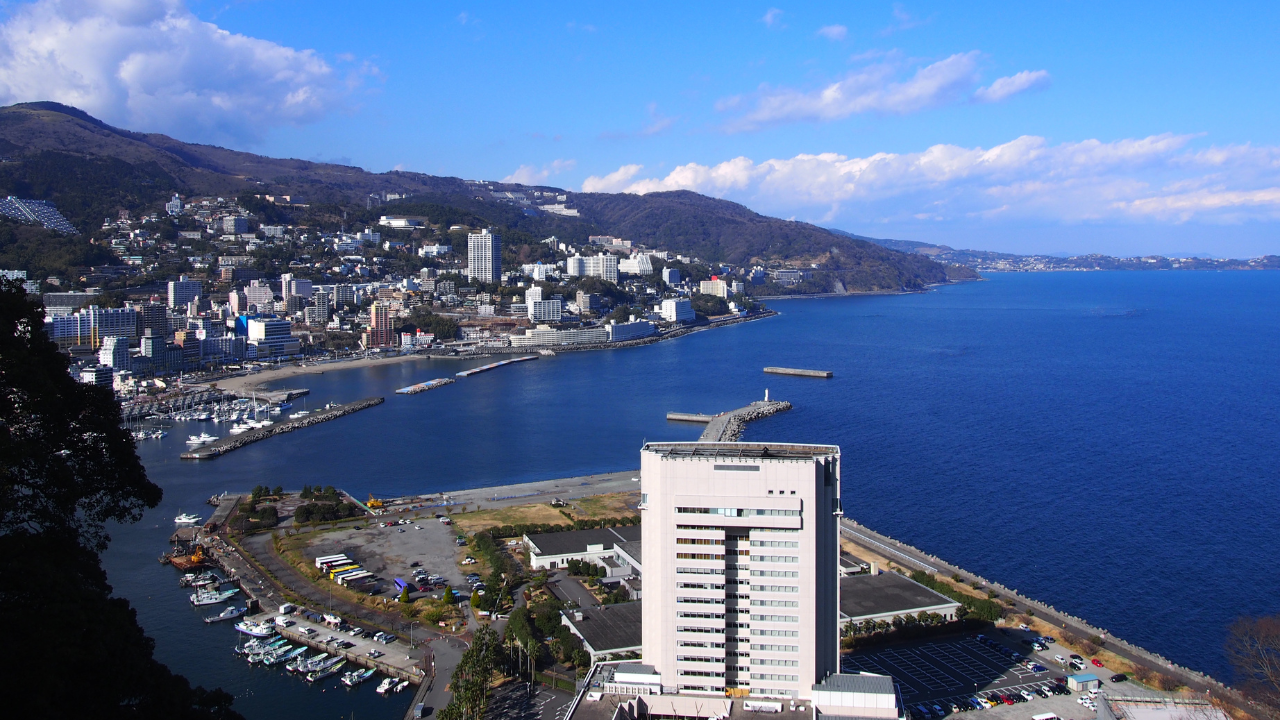 Getting there from Tokyo: A 50-minute ride on the Shinkansen.
A hot favourite among Tokyo residents, Atami Onsen has long stood as a celebrated resort area in Japan. Generally, the springs here are clear and mildly alkaline, which is gentle on the skin, promising a beautifying effect. Even the famed samurai leader from the Edo period, Tokugawa Ieyasu, was rumoured to have been smitten by Atami's nurturing waters.
Its proximity to the sea allows visitors to indulge in beach activities and water sports. Plus, with attractions like plum groves and firework festivals, Atami ensures there's never a dull moment.
Yugawara Onsen (Kanagawa Prefecture)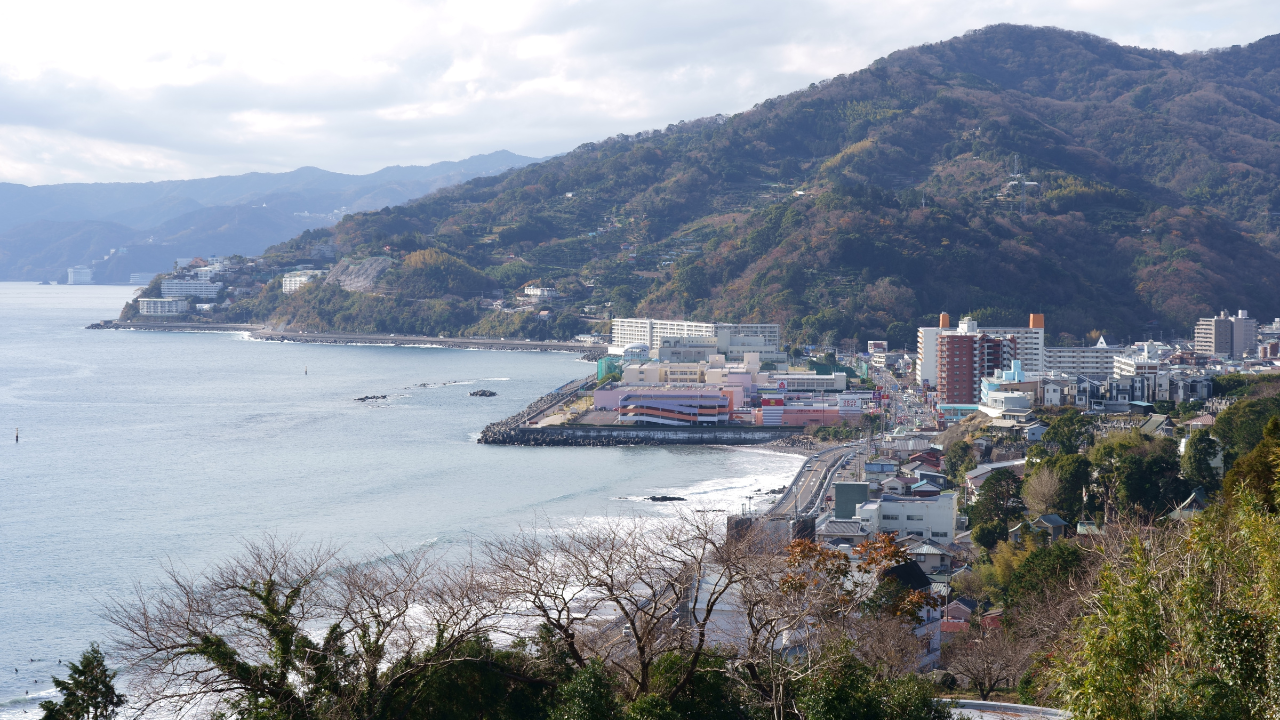 Getting there from Tokyo is about a 1.5-hour train journey.
Yugawara is another accessible and popular hot spring destination from Tokyo. With a history as a spa and healing area, its waters are mildly alkaline. They're said to be effective for external injuries like cuts and bruises, as well as internal ones like angina and back pain.
Its lush scenic beauty is a magnet for many. Whether it's the seasonal flowers, autumnal hues, sea or mountain activities, Yugawara offers it all. The onsen town also boasts a variety of dining and souvenir shopping options, making it a hit among tourists.
Kinugawa Onsen (Tochigi Prefecture)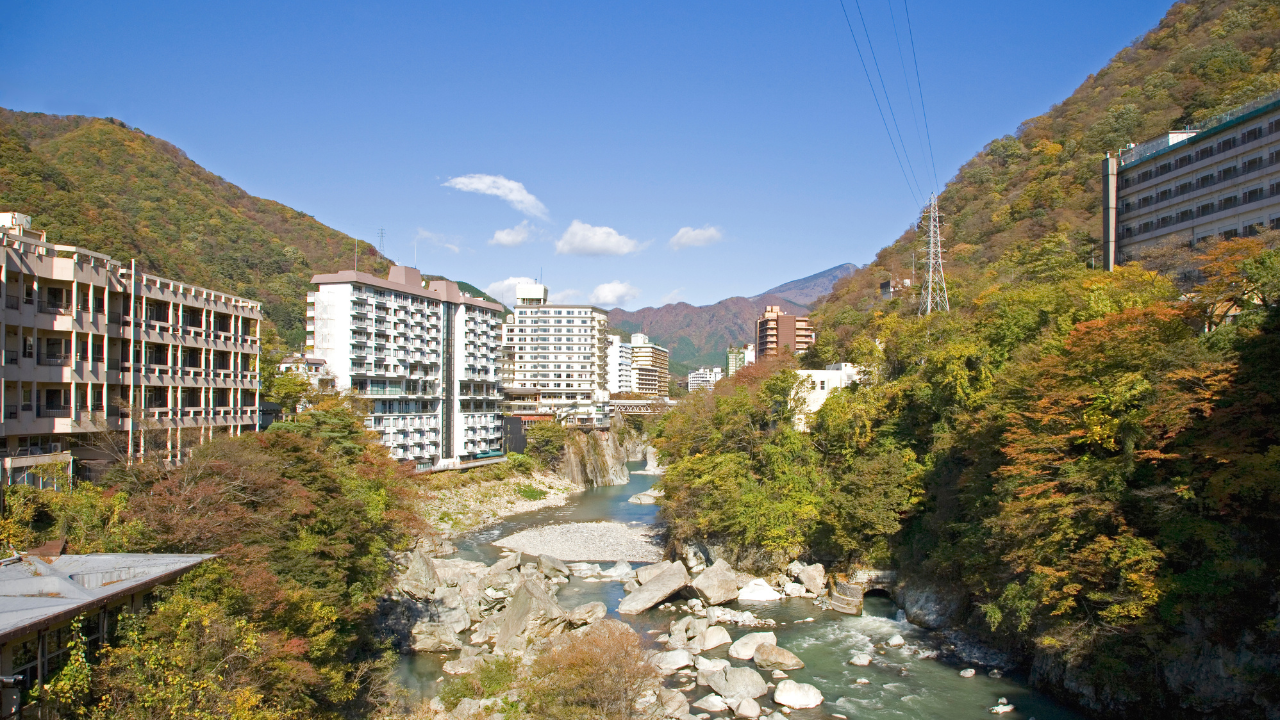 Getting there from Tokyo: A 2-hour train journey.
Kinugawa Onsen boasts a rich history and is often referred to as the "Court's Onsen" due to its popularity among the nobility during the Edo era. The springs here are mildly alkaline and clear, considered good for fatigue and coldness. The onsen town, with its scenic beauty, offers river cruises and is also close to famous destinations like Nikko.
One of the unique experiences you can enjoy here is hand-bathing. Kinugawa has several public hand-bath fountains, allowing visitors to soak their hands and enjoy the beneficial properties of the water.
Conclusion
Japan's hot springs await you with beautiful nature, relaxing moments, and a rich tapestry of history and culture. While we introduced the top 10 onsen regions, Japan boasts countless other hot spring areas beyond this list.
In particular, the "Three Famous Springs of Japan" namely Arima Onsen, Kusatsu Onsen, and Gero Onsen are among the most renowned in the country, and are definitely worth a visit!
Onsen trips are a captivating part of Japanese culture and promise a deeply moving experience. From astonishingly high-temperature hot springs like those in Obama Onsen in Nagasaki Prefecture to the vast variety of spring sources like in Kusatsu Onsen in Gunma Prefecture, you're bound to find an experience that will resonate deeply within you.
Frequently Asked Questions:
Is Onsen expensive in Japan?
Onsen prices vary widely. A day visit to a public onsen might cost between 500 to 2,500 yen. Ryokan stays, which often include meals and private baths, can range from 15,000 to 50,000 yen per person. However, with varying price points, there's an onsen for every budget.
What is the difference between ryokan and onsen?
A ryokan is a traditional Japanese inn, often found in scenic areas, offering rooms and meals. Onsen refers to the hot springs so you cannot stay at the onsen facility. Many ryokans have their own private onsens, ensuring a unique bathing experience.
Can I enter an onsen if I have a tattoo?
Historically, tattoos with people were prohibited in onsens due to their association with the Yakuza (Japanese mafia). However, as international tourism grows, many onsens are becoming more accepting. It's always good to check in advance or cover the tattoo with a patch.
Do I need to bring anything to an onsen?
Basic amenities are usually provided, but it's a good idea to bring your own towel, toiletries, and a change of clothes. If staying at a ryokan, yukatas (light cotton robes) and basic toiletries are typically included.
Related Articles